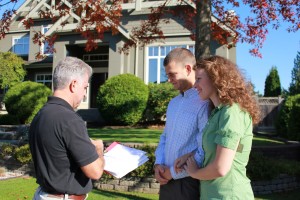 Accredited Buyer Representative showing a first time home buyer a real estate contract
Thomas J. Real Estate, Inc. offers home buyers the opportunity to work with an Accredited Buyer Representative (ABR). Broker Thomas J. McGroder was one of the first REALTORS in the area to obtain this elite designation and has maintained membership ever since. A buyer representative works on behalf of the buyer to obtain the best results possible for them during the real estate purchase process. Whether you're a first time home buyer or a seasoned veteran using a Accredited Buyer Representative can give you piece of mind.
When buying a home, it's important to think carefully about your offering price—but also your offering terms. Most purchase offers define both. And in some cases, terms and conditions can represent thousands of dollars in additional value for buyers—or additional costs.
Terms may include inspections, requests for specific property repairs, or timing considerations, such as a conditional purchase clause (if, for example, you must first find a buyer for your current home).