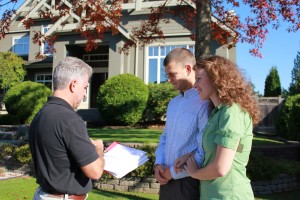 First time home buyers working with their REALTOR
First time home buyers have different ways to obtain the down payment.
First time home buyers find buying their first home exciting but also a huge responsibility. A common problem for first time home buyers is that while it may be easy to find a home with a mortgage that you can afford and that is comparable to the rent you've been paying, coming up with a hefty down payment feels impossible. The truth is you don't have to wait until you make way more money or magically come into a windfall to save for a down payment. Instead, just think outside of the box and explore these three creative ways to come up with a down payment:
Start a Side Hustle
A side hustle is a weekend gig, freelance business, or other money-making endeavor you start on the side of your "real" job. The idea is that you're already living on the income from your day job, so any income from your side hustle can go into savings until you have enough for your down payment. This is the time to be creative and take advantage of your skill set. Some great side hustle ideas include dog walking, freelance writing or graphic design work, or picking up shifts as a catering server or bartender on the weekends.
Withdraw Money from Your IRA
If you have retirement savings in an IRA, you may be able to withdraw some of it to go toward your down payment. The IRS typically allows first time home buyers to withdraw up to $10,000 toward a down payment without tax penalties. If your spouse also has an IRA, they can do the same thing for a total of $20,000.
Look Into Down Payment Assistance
Various local and state down payment assistance programs exist to help first time home buyers with their down payment. Here in New York, a popular program is the Down Payment Assistance Loan Program.
New York State Association of REALTORS® is working every hard to get legislation passes that would help first time home buyers save money tax free for a down payment on their first home. Click here to visit the NY First Home website and to send an electronic message to your state legislator urging their support for the NY First Home proposal.
As you can see, even if you don't have enough money set aside for a down payment, all is not lost. Whenever you're ready to make the leap and buy that first home, be sure to contact Thomas J. Real Estate, Inc. to see how we can assist you in your search.