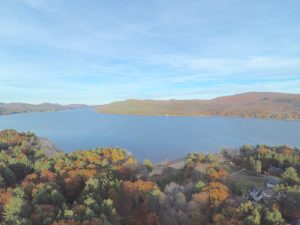 Arial view looking towards Town of Day on The Great Sacandaga Lake
Dream lake & vacation home on The Great Sacandaga Lake.
If you're looking for your dream lake & vacation home, look no further than Great Sacandaga Lake. Nestled at the foot of the Adirondacks, Great Sacandaga is only about 20 minutes from Saratoga Springs. The lake was created in the late 1920s by damming the Sacandaga River, with the dual benefits of providing flood control downstream towards Albany, and offering a 41-square mile lake for tourism.
Visitors to Great Sacandaga Lake give thumbs-ups reviews across the board–from lodging to recreation to shopping and dining–the lake is a great getaway all year 'round. The lake is big and deep enough for some serious fishing–a 46 pound pike holds the record for the biggest fish caught there. There's also boating and waterskiing, but purists prefer a sail–preferably to one of the great restaurants that dot the shoreline. There's birding, hiking, and bicycling for the landlubbers, and several golf courses to round out your summer fun. In the winter, there's skiing nearby and snowmobiling–unless you just want to curl up by the fire.
If you're in the market for a second home, the year-round activities at Great Sacandaga mean you can get away for some R&R any time, not just in the high summer season. Having your own getaway makes the weekends truly relaxing–there's a real luxury to leaving home with nothing but a grocery list and your own schedule (when it's your house you can get there as early as you please and stay as late!). If this sounds appealing to you, contact us and we can help you figure out what's right for you. We've got rental homes, too–come stay awhile and fall in love with the lake living at Great Sacandaga Lake.
For more information visit Thomas J Real Estate, Inc.