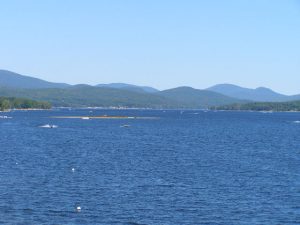 Great Sacandaga Lake helps take the stress out of life
If the hustle and bustle of every day life is getting you down, and you need a place where you can get away, relax, and forget about the daily grind, homes and real estate for sale near Great Sacandaga Lake is the perfect solution.
Right near the southern border of the Adirondack Mountains, you can enjoy all four seasons like never before in your own private getaway that isn't too far away.
Great Sacandaga Lake is just west of Saratoga Springs, so while you're fully nestled in nature, you'll also be close to civilization, where there is great shopping, restaurants, concerts, and of course, the famous track.
One of the best things about New York is experiencing all four seasons, but that's heightened even more in the Adirondacks. In the spring, not only do you get to experience all the blossoms and blooms, but witness bears and other animals waking up from their long winter nap. Cubs and newborn deer are a common sight too, as well as loons and other migratory birds returning to the lakes.
This is the perfect place to enjoy summer weather. It's plenty warm to boat, water-ski, kayak, and swim, but not so hot that you can't take a hike on all the local trails, or enjoy a nice fire at night.
There is no place better to enjoy the fall foliage than right here at Great Sacandaga Lake. The days are crisp, and the colors are more vibrant than any other place in the state. Take a drive around, and you will be reminded why you wanted to have your own little getaway all to yourself.
Many make the mistake of thinking their vacation home won't get any use in the winter, but there is still a lot to do here in the colder months. In fact, people come here from all around just to enjoy the winter activities. Ski resorts are just a short drive away, and there are hundreds of miles of snowmobile trails open to the public. Try your hand at ice fishing, or ice skating. Or if you're not a fan of being out in the cold, simply sit by a fire and watch the snow fall. There's no better way to relax and unwind.
If you're considering a vacation or seasonal home, Great Sacandaga Lake is a great location to enjoy year-round. It is the best place to enjoy all four seasons, all in a convenient location. For more information, contact us.