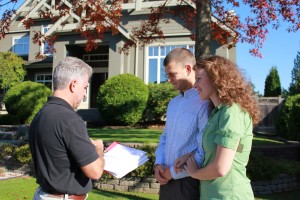 Accredited Buyer Representative showing a first time home buyer a real estate contract
When you begin the process of looking for a new home, one of the first decisions you need to make is whether to work with REALTORS or real estate agents.
We think REALTORS are critical to the home buying process and we wanted to explain precisely how.
How a REALTORS can help you find your next home.
A realtor can help you find your next home by:
Providing "insider information" on available homes for sale – information you won't find just by looking at the MLS listing.
Drawing your attention to pros and cons of individual homes during personal real estate showings.
Developing an understanding of your taste and budget, and helping you find homes that fit your criteria and avoid eyesores.
Giving you an informed perspective on whether a home is a "good buy" given its size, state, location, and other variables.
Learning of new listings before they even become public, so that you will be one of the first to see a hot new house on the market
Having oversight of the home buying and selling experience, and legal regulations that affect the transaction
Representing you and your best interests throughout the process
Cutting through the legalese in real estate documents and making sure that you understand the full implications of real estate documents you will be signing during the home buying process
Here is are a couple of links to help you get started with your search:
Homes for sale in Orange County NY
Homes for Sale Saratoga County, NY Area
To learn more about Thomas J Real Estate, or to schedule an appointment to view available houses for sale, please contact us.