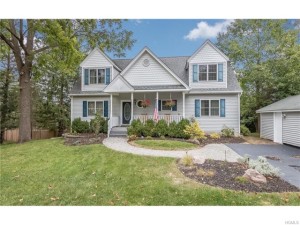 Staging the exterior of 7 Summit Ave. Harriman
Simple changes can make the difference between a buyer walking through your front door or just driving past.
Here are some tips that can help sellers succeed in selling their home.
If you are making the decision to sell your home, you must be willing to spend some time, effort, and money on creating an ideal home for potential buyers to look at and think about owning.
While there are often major projects that you can take on and benefit from, at the very least, you should take advantage of simple changes that can produce superb results.
Paint the Home in Neutral Colors
Selling your home will become more challenging when you work against what potential buyers want, such as neutrality from the moment they walk through the front door. In this case, you want to paint your home in neutral colors, but this does not mean you should paint the home in stark white.
A collection of gray, white, and beige colors will make your home look quite presentable.
Deep Clean or Hire a Professional Cleaner
If you are confident in your ability to deep clean your home, feel free to do so. However, you will generally benefit most from hiring a professional cleaner to do an extensive cleaning in every single room.
These professionals will have the right equipment, cleaning solutions, and methods to make sure your home looks as spotless as it can be once they are entirely finished.
Keep Furnishings Minimal
When living in your home, you may have a lot of furnishings to accommodate your wants and needs, but when it comes to selling your home, you want to keep furnishings to a minimum. An overly busy home is not an attractive feature to most potential buyers, so putting excess furniture in storage is ideal.
Eliminate Clutter
Clutter is an issue, whether it is on the floor or displayed in a bookcase. Along with putting your unnecessary furnishings into a storage unit, you should eliminate clutter in the form of lamps, books, televisions, and kitchenware that is simply too excessive for showing potential buyers.
When you're ready to sell your home give the professionals at Thomas J. Real Estate, Inc. a call. They can offer you simple tips and suggestions that might help you get to the closing table.