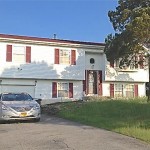 7 Tuffs La
Highland Mills NY
Monroe – Woodbury Schools single family homes for sale.
Are you in search of a new home or looking to upgrade? With interest rates at record lows now may be the time to purchase that new home you've always dreamed about.
Currently the Monroe-Woodbury School District has 278 single family homes on the market with prices starting as low as $45,000 and as high as $1,350,000. Currently, there are 107 single family homes with 1-3 bedrooms and 170 with four or more bedrooms.
Currently the average days on the market for a single family home is approx. 93 days and the median price is $310,000.
The Monroe-Woodbury School District serves homes in Highland Mills, Central Valley, Monroe, Chester & Tuxedo.
New York State has a school report card that allows you to see how each school ranks throughout the state
Thomas J. Real Estate specializes in the sale of single family homes throughout the Hudson Valley and Capital Region of New York.
To view the current inventory of single family homes for sale in the Monroe-Woodbury School District contact Thomas J. Real Estate