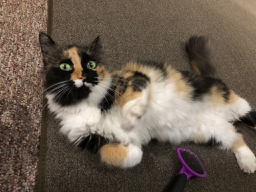 Pets can suffer from the stress of moving also
Here are some ways to help your pets deal with the stress of moving.
Moving into a new home is an exciting time, but it can also have its stressful moments. Just as you and your family will need to adjust to your new surroundings, so will your pets. In this post, we will discuss some tips to help your furry friends cope with moving time.
Before the Move
Some pets are more likely to wander away from their owners in areas that are not familiar to them. If this sounds like one of your pets, consider taking them to a vet to get them micro-chipped before the move. If your move will require several trips between your old and new homes, it is probably best to leave your pets in their original home so they will be in familiar surroundings while the move is taking place. Put them in one room with their favorite toys and blankets, plus food and water dishes they are familiar with.
Making the Trip
Ideally, while you are moving into your new home, set aside one room where your pets can first stay in order to get acclimated to their new surroundings. On your last trip between homes, pack up their food, toys and blankets and bring them with you, so they will have them in their new surroundings. During the actual trip from the old home to the new, it is best to keep animals crated. Make sure your crates or cages are sturdy and secure. If possible, keep your animals crated the entire trip. If the trip to your new home is a long one, let your pets take potty breaks and give them some water and a small amount of food. If your pets have difficulty being in a moving vehicle for long periods, some vets will offer mild sedatives to help them feel more comfortable.
After the Move
During the first day or two after the big move, it is best to confine your animals to one area of the house. Try to provide all the comforts and the routine they had in their last home. Make sure they know the new areas where they can take their bathroom breaks and show them the location of their food and water. Gradually introduce them to new areas of the home. To avoid potty accidents, don't expand their exploration of new areas until you are sure they completely understand where they can appropriately relieve themselves.
Most of all, provide extra love and reassurance to your pets before, during and after a move. The more reassurance they receive from you, the easier they will be able to make the transition to their new home.
Want to know more about successfully transitioning to your new home? Contact us or visit your local humane society